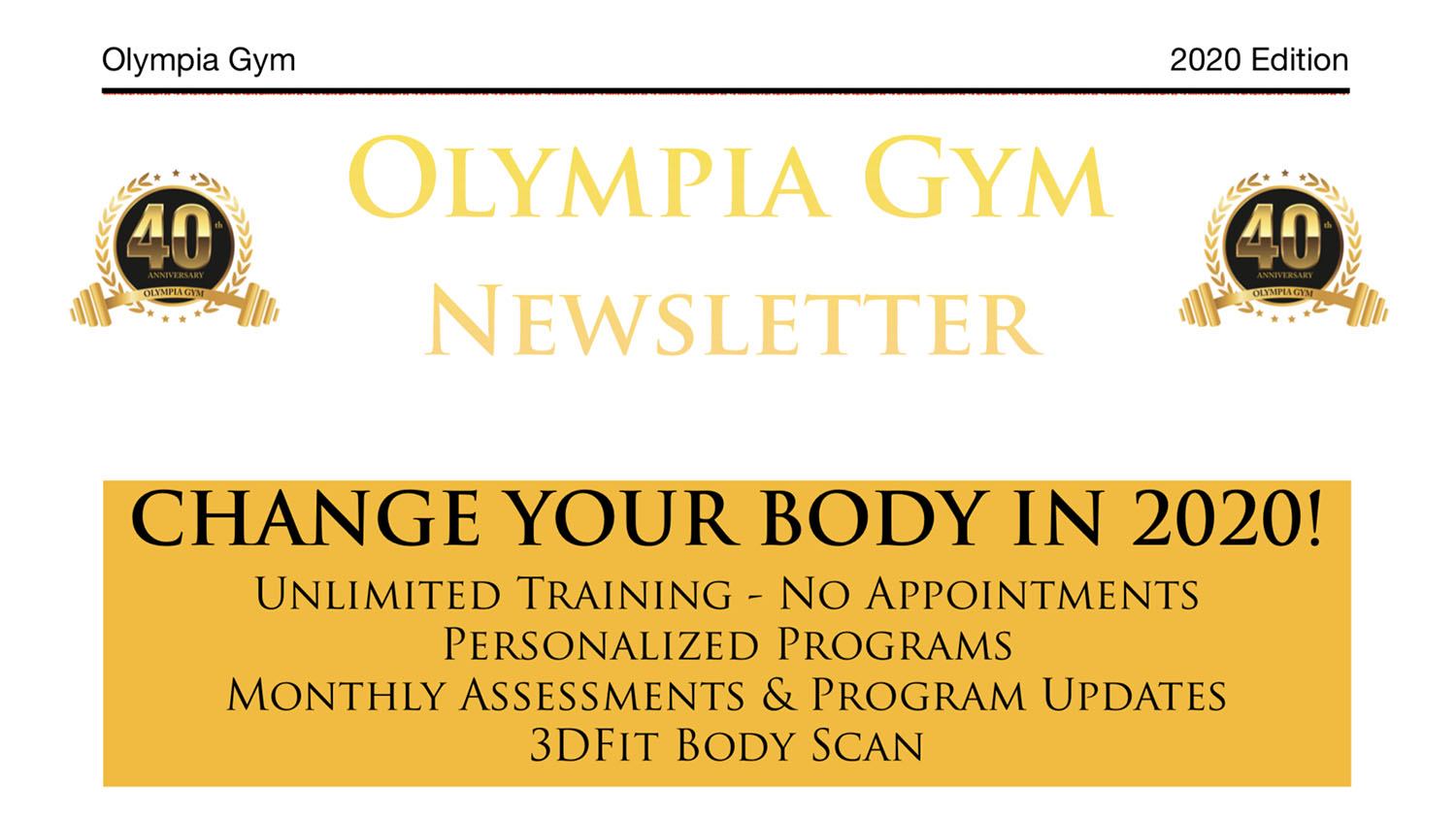 Olympia Offers New 'Train Smart' Program to make 2020 your Best DECADE Yet!
WHY?
We're already into the new year and struggling to keep our resolutions to finally get in shape. How's that going? Olympia feels your pain! We're here to help!
WHAT?
Strength training (weight training) is widely recognized as the single best way to make healthy changes in our bodies. If all the benefits of strength training could be put into a pill it would be the most widely prescribed pill ever created! But, how do you start? How do you stay safe and still get all the benefits? How do you know what exercises to do that are best for your particular needs and body? How do you change up your workouts to keep getting results? How do you track results? What's proper technique on all those exercises that will give you the quickest and safest results? How can you work with a trainer without being tied down to an appointment schedule? How can you train at the gym under supervision as often as want – for as long as you want – and whenever you want?
HOW?
Olympia's new TRAIN SMART Program makes it all easy, convenient, safe, effective and SMART! Simply enroll each month for unlimited semi-personal training. Train as often as you want within specified hours and receive an updated personally designed workout program. Your trainer will be available to supervise, instruct, and motivate you during your workouts. Each month you'll receive an assessment that includes the latest fitness body scanning to track your results and keep you motivated on your resolution journey to a new you!
WHEN?
Monday thru Friday 8am-12pm Saturday 9am-12pm
Olympia Demonstrates Commitment To Members Education By Offering Bi-Weekly Workshops… "Training Smart For Optimal Results"
Whether you've been exercising for years, or are relatively new to the gym, having a foundation of science backed knowledge will improve your efforts and maximize your time. Spend an hour learning what exercise can and cannot do, how to perform strength training effectively, safe techniques, short cuts and methods to progress safely in your journey to improved health.
Twice each month a "Train Smart" workshop will be offered on a Saturday morning. Each workshop will be lecture style with ample opportunity for questions about your program. One week the topic will be "Strength Training" (Scientific Weight Training For Optimal Results) alternating with "Train Smart With Cardio Exercise and Fat Loss".
The workshops are free and open to the public. Bring your family, friends and anyone else you care enough about to help them improve the quality of their life.
Starting: FEBRUARY 1st 10am – Topics Will Be Announced in the Gym.
TRAINER SPOTLIGHT
Michael McGinn, the designer of the Train Smart Program has been a Senior Level Trainer for over 50 years. Training, literally, hundreds of successful clients has given Michael the practical knowledge base that comes from not only from direct client experience, but a life-long quest for knowledge about body function, exercise science, and bio-mechanics as it pertains to strength training. Having that experience for so many years also gives Michael first hand knowledge of the effects of aging so as to be able to offer his knowledge through the eyes of someone who's 'walking the walk'.