CARDIOVASCULAR MACHINES:
Olympia Gym has a large cardiovascular training area featuring the latest in cardiovascular exercise machines and entertainment. We feature the industries most recognized and trusted brands including: Life Fitness®, Precor®, StairMaster® & More.
Treadmills
Ellipticals
Step Mills
Recumbent Bikes
Upright Bikes
Cardio Entertainment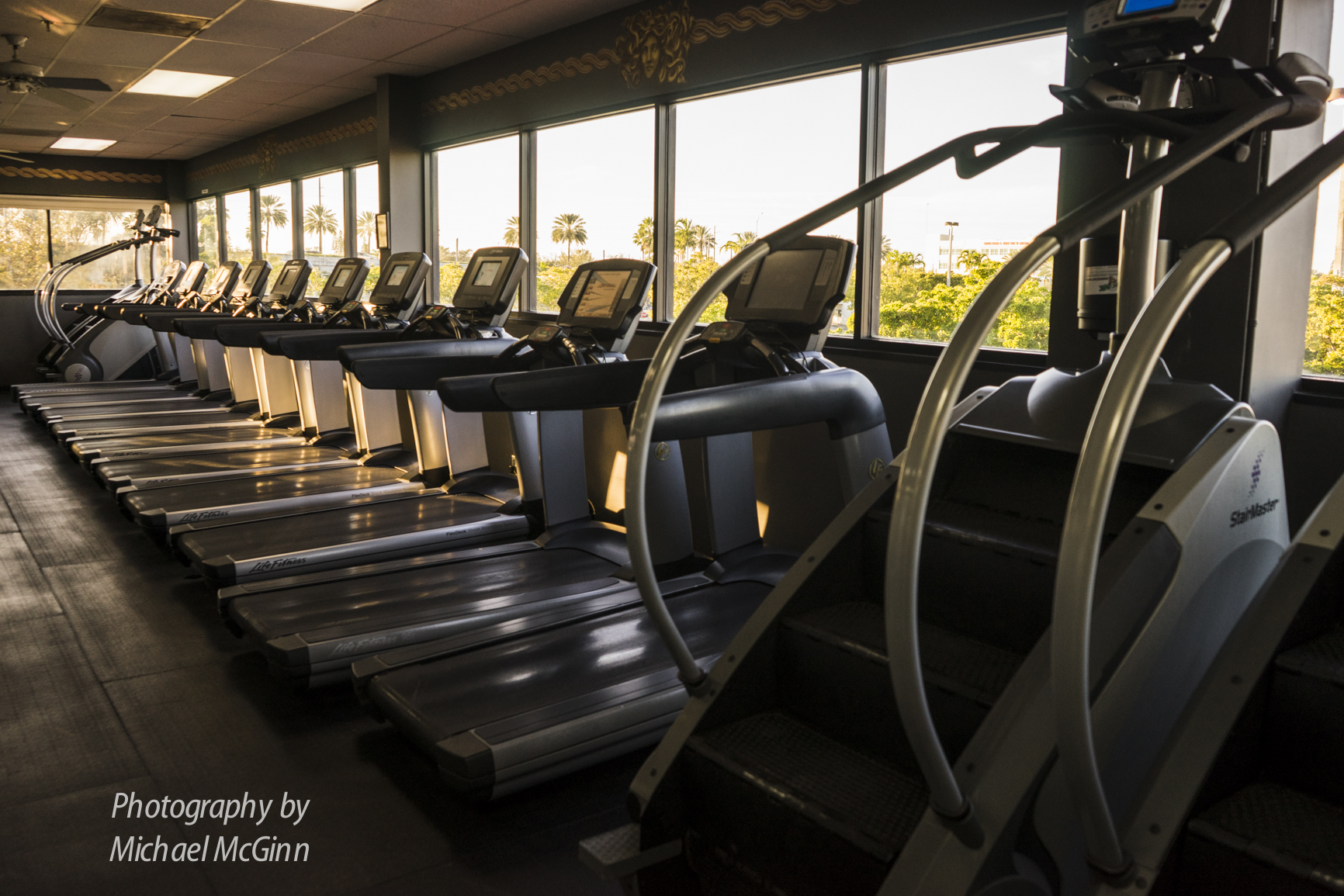 STRENGTH & FUNCTIONAL TRAINING EQUIPMENT:
Our main strength and functional training areas are organized into 5 rooms that are loaded with equipment by the fitness industries leading manufacturers like: Life Fitness®, Paramount®, Body Master®, Magnum®, Nautilus®, Hammer Strength®, and our newest line: Hoist® Roc-it. These workout rooms also include a free weight area, abdominal section, cardio circuit, and functional training studio.Selectorized Machine
Circuit Machines
Cable Machines
Plate Load Machines
Iso Lateral Machines
Function Exercise Equipment
Free Weights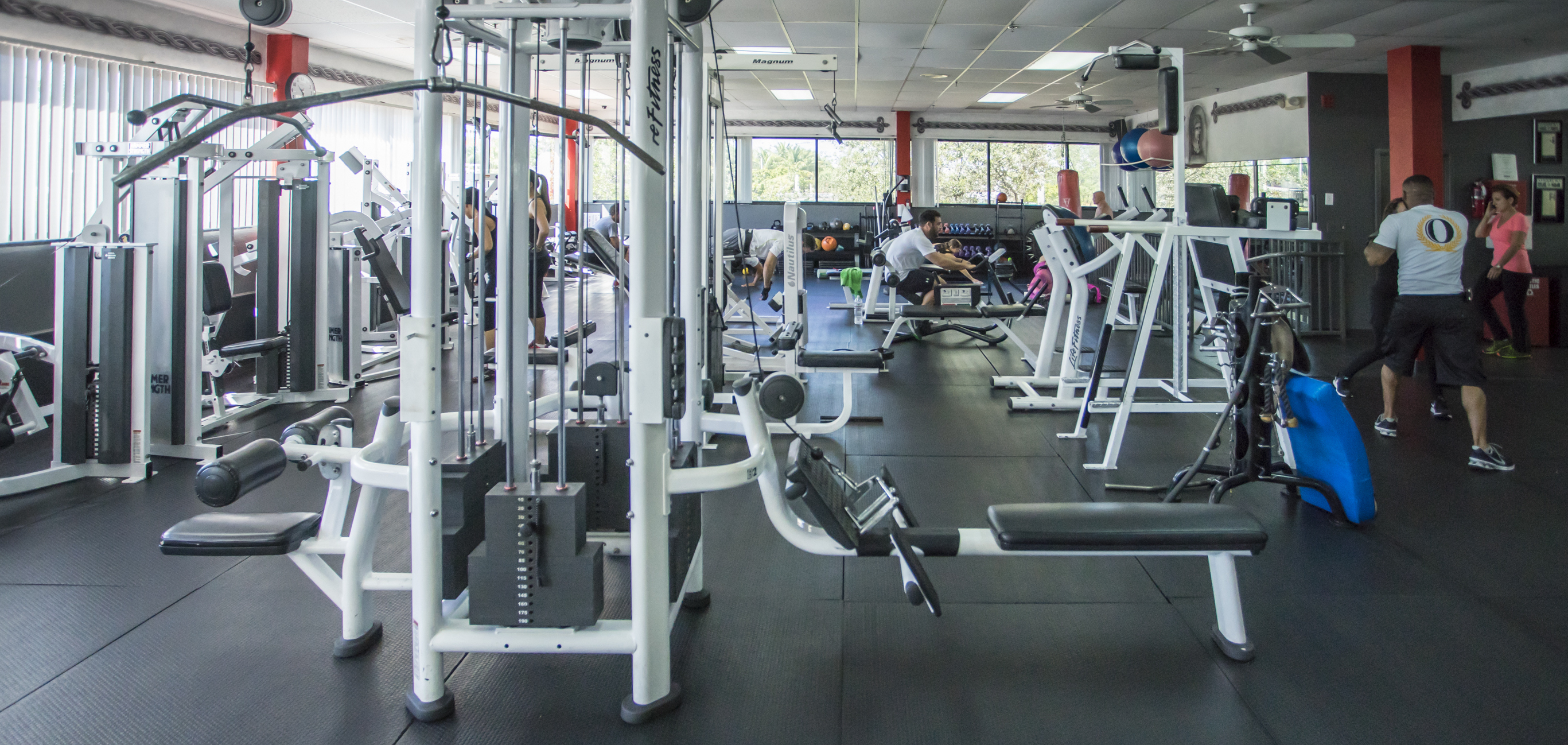 GROUP EXERCISE CLASSES:
Morning and evening group exercise classes are all inclusive with your Olympia Gym membership. We offer more than 35 group exercise / aerobic classes each week. All classes are directed by Master Instructors in our large group exercise studio. Olympia Gym is the proud home of Zumba 305 and host one of the largest Spin® centers in the country.
Body Forging
Body Sculpt
Boot Camp
Boxing
Butts & Guts
Core
Dance Fusion
Impact
Latin Dance
Spinning® 100 Bikes
Yoga
Zumba® & Zumba® Toning
PERSONAL TRAINING:
1 Hour & 1/2 Hour Sessions: One-on-One, Small Group and Semi-Private Training—more than 20 trainers on staff.
One-on-One or team up with a friend or family member for the best training experience ever. Olympia Gym Personal Trainers are passionate about helping their clients reach their health and fitness goals. When you meet with a personal trainer from the Olympia Gym Team you can be confident you're placing your trust with a trainer that operates at the highest level of ethical standards and is one of the most experienced trainers in South Florida.
To begin the process, we evaluate all members in order to find your current level of fitness. Then we work side-by-side with you to educate and guide you through each phase of your diet, nutrition, and exercise program. In addition, your trainer will develop exercise routines throughout your fitness journey that are based on your—then current—level of fitness and the long-term goals you're looking to accomplish.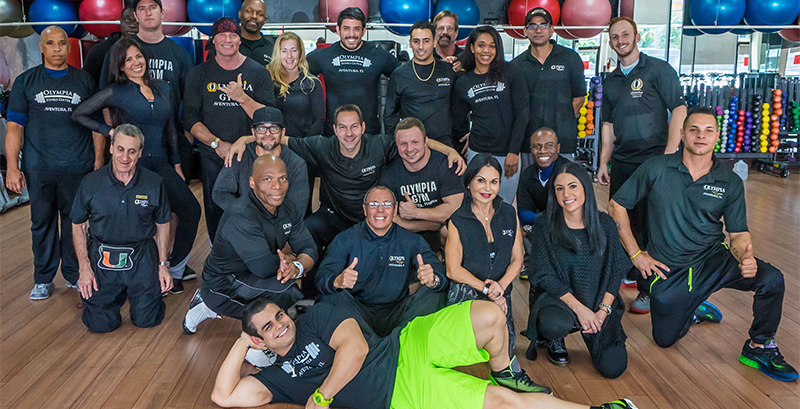 OTHER PROFESSIONAL SERVICES:
Massage Therapy
Stretching
FITNESS PROGRAMS for all ages:
Training routines for Adults and Kids. Olympia Gym Fitness Program will help you in the following areas:
Improve Strength
Improve Endurance
Increase Coordination
Develop Self Confidence
Build Lean Muscles

Improves Weight Control
Reduces High Cholesterol
Reduces High Blood Pressure
Reduces Anxiety & Stress
Reduces Sedentary Lifestyle
Physical activity is important to start at a young age. Our youth fitness programs are designed for children's developing bodies and we make it fun so they want to attend. Did you know, that the U.S. Department of Health & Services recommends that child age 6-17 participates in at least 60 minutes of daily physical activity.
CHILDCARE:
Sat 9:00 am – 12:30 pm
LOCKER ROOMS
Day Lockers
Lockers for Rent
Showers
Steam & Sauna
PRO SHOP:
Belts
Gloves
Gel Bike Seats
Bags
Yoga Mats

Hats
Tank tops
Stringer Tanks
T-shirts
Shorts
JUICE & SUPPLEMENTS BAR: Cafe Verde
Protein Bars
Shakes & Smoothies