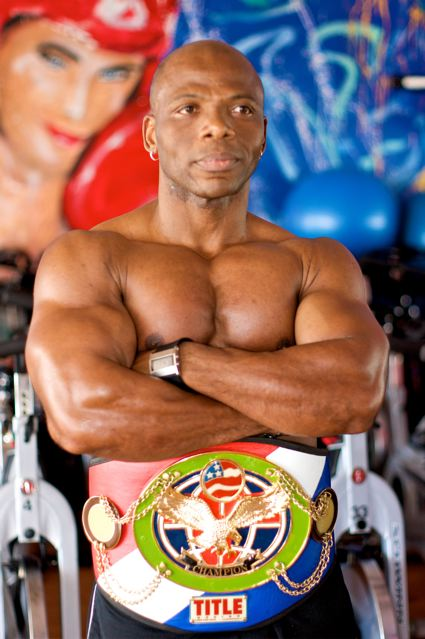 Anthony Whymes – Exercise Specialist
As an Exercise Specialist, Anthony's goal is to help you achieve change. He will provide you with motivation, nutrition advice, accountability, and direction to attain your fitness goals and to sustain them throughout your life.
Coach Anthony:
Anthony is an innovative athlete and lifestyle coach, whose training style is among the most intense that you will find. He is committed to excellence and advancements in high-performance conditioning and functional strength development. He has a sincere interest in helping today's athlete in their quest for greatness.
Awards & Certifications:
Bahamas Kickboxing Champion
Second Degree Black Belt
Former Member Florida Kickboxing Team
New Jersey Natural Bodybuilding Champion
Boot Camp Instructor
Certified Personal Trainer
Certified Group Instructor
Certified Kettlebell Instructor
Certified Johnny G Spinning Instructor
AWARDS & ACHIEVEMENTS:
2nd Degree Black Belt at 21 y.o.

U.S Open Middle Weight  Kick-Boxing Champion

N.A.B.F. New Jersey Super Natural Bodybuilding Champion
EDUCATION & CERTIFICATIONS:
Bahamas Hotel Training College, Nassau: Leadership and Recreation Diploma)- 1979

Karate Instructor

Kettle Bell

Reebok Aerobic Instructor

AeriFit Personal Trainer

Johnny G. Spinning

ISMA Personal Trainer

IFA Fitness & Nutrition
SPECIALIZING IN:
Bridal BootCamp

Athletic Training

Strength & Conditioning

Boxing / Kick-Boxing Training

Weight Loss

Group Exercise Training
To schedule and appointment for a free consultation call Anthony at (945) 297-2071 or visit his website at extreme-fitness-101.com
My job is to help you achieve change. I provide you with:
A Work Out Plan

Body Fat Assessment

Motivation

Nutritional Advice

Accountability and direction
"A goal without a plan is just a dream"