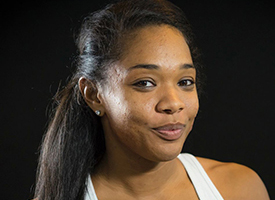 Crystal is a Certified Personal Trainer, Athletic Performance Coach, and Injury Prevention Specialist
My career in sports and training started off as a collegiate basketball player. After a life changing event, and several injuries, I decided to step away from playing basketball to train basketball players instead. This route took me to becoming an Athletic Performance Coach for Parisi Speed School in 2012. Here I trained athletes from every level, ages 7-18 and professional. I would eventually work for FLO Fitness and Animal FLOW, and transition into not only athletic performance but injury prevention as well. Along my journey of being a coach, and still wanting to be a competitive athlete, I decided to go into bodybuilding. I find great joy in transforming the body and seeing what it is capable of. I am currently a figure/womens physique competitor, with the goal of going Pro.
With my extensive background in Athletics, both playing sports and training athletes, I decided to take it to another level, and start training individuals with different goals outside of athletics. This journey has brought be to where I am now. I am a personal trainer with the goal to help you achieve your goal, whether it is performance, weight loss, strength, injury prevention, muscle gain, or just over all health. No goal is impossible if we work together!
Certifications:
ISSA PT
Parisi Sports Performance
Health and Physical Education (BA)
Education:
Health and Physical Education (BA)
Animal FLOW
FLO injury prevention
Competitive:
NCAA first team all American
NPC Figure – national ranked
PC Figure – 3 time 1st place
Progress is Progress no matter how small… Trust the Process!